Throughout her career, Shao-Lee Lin, MD, PhD has always been driven by a personal mission to make a meaningful difference in patients' lives.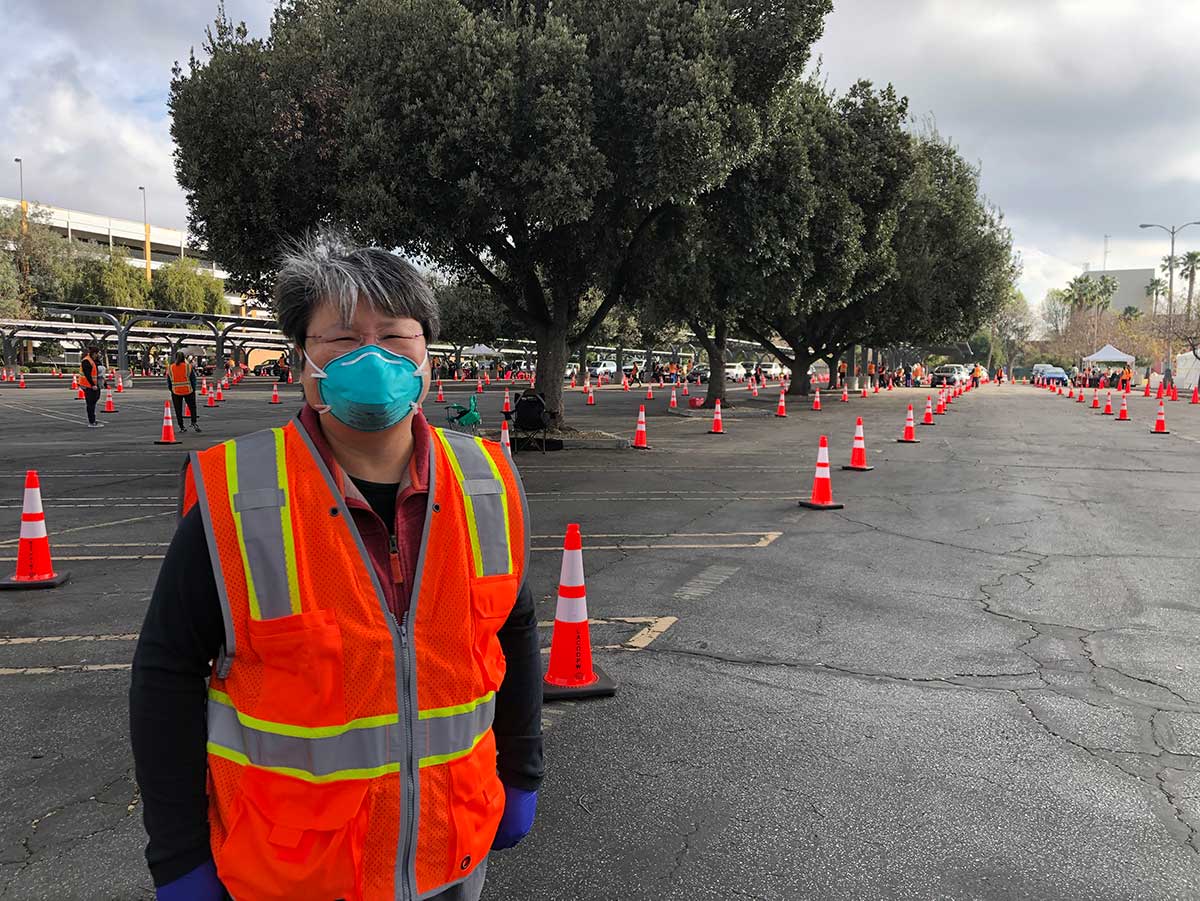 "Putting patients first has led me to places ranging from the streets of New York on 9-11 to the corporate and academic worlds, where I had the privilege to help develop life-changing therapies," she said.
The call to serve arose again when the Los Angeles County of Public Health sought volunteer physicians to help ensure COVID vaccines were administered safely at Points of Dispensing (PODs) in early 2021 during the public health emergency.
Shao-Lee did what came naturally and stepped up to help meet the challenge of vaccinating thousands of people each day.
Upon arrival, she was inspired by the cheering she and other healthcare workers heard from the patients.
"There was a tremendous outpouring of gratitude and goodwill from the patients for everyone who was volunteering," Shao-Lee said. "The emotions ran from elation, an incredible excitement and happiness, all the way to fear some people felt because they were anxious about getting something new."
When asked in a questionnaire what their main motivations were for getting the vaccine, common themes amongst the respondents were the desire to protect themselves, their families, and their communities.
Asked about how getting the vaccine would impact their lives, greater peace of mind was high on the list. The answers to this question also contained reminders of the many simple things that were taken for granted before the pandemic. One respondent, Susan C., said that upon receiving the vaccine she was really looking forward to re-joining her needlework class.
"All the respondents were incredibly thankful for the efforts of the scientists, doctors and volunteers who developed and administered the vaccine," Shao-Lee noted. "When I read responses that said, "You are our heroes" and "You (volunteers) all make a difference," it reaffirmed how everyone from biopharmas that develop drugs to healthcare workers on the front line and volunteers working together with them can make the world a better place."
Her experience in the Los Angeles area reminded Shao-Lee of the time she volunteered as a first responder at Ground Zero during another national emergency, 9-11.
Immediately after the planes hit on thawt fateful Tuesday, authorities were calling for anyone with medical experience to come and help. Shao-Lee stayed on site until the National Guard took over on Thursday.
"I was thinking the other day about this," she said. "The number of deaths from COVID just in the United States alone is approaching 100-fold that of 9/11. It saddens me every time I think about it."
"The development of the COVID vaccine feels like that kind of community-sparking event. It's inspiring to see people pulling together trying to figure out how to help and make things better out of something quite terrible and tragic."
One of the hardest parts of watching any tragedy unfold, especially in the age of mass media and social media, is the feeling of helplessness—of wanting to help but not knowing how.
"Partnering with our local public health authorities when there is an urgent call for healthcare workers to volunteer and being able to give back in a situation like this where I can be on the front lines to volunteer to help get people safely vaccinated is terrific," she noted.
ACELYRIN: Leading through "Courageous Caring"
Meeting an urgent need and being guided by compassion were key drivers for Shao-Lee when, together with company President and COO Bob Carey, she formed ACELYRIN, an innovative biopharma devoted to accelerating the identification, development, and commercialization of drugs with life-changing potential for patients with serious diseases.
"Our key cultural value is what we call, 'Courageous Caring,' and it sets the tone for our culture and business," ACELYRIN CEO Shao-Lee says. "With the patient at the center of all we do and in being guided by our values of courage, compassion, innovation, and sense of urgency, we are trying to do our part to give back to society. The team at ACELYRIN will demonstrate those values through support for communities, both on and behind the scenes."
Speed of response is a marker for ACELYRIN's success.
"By leading with the courage needed to quickly solve challenging issues, we're operating in the spirit in which the COVID-19 vaccine was developed in record time," Shao-Lee emphasizes. "The commitment to caring, speed and innovation is what transforms lives, and it has guided me personally and professionally throughout my career and life."